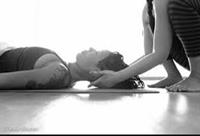 Join me Friday April 22 (6-7:30pm) at the Pad Studios for an intensive hands on adjustment class/workshop that incorporates movement, hands on assists and aromatherapy.
Skillful adjustments can transform a student's practice in a way that no verbal adjustment could. Through receiving adjustments, students have the opportunity to go beyond self-imposed boundaries and realize what they never thought was possible. Assists are magical. Yoga is good like that.
Adding the benefits of essential oils and aromatherapy throughout the practice can help to transport the body and mind into a surreal place while feeling alive in present moment.
Space is limited to a small group to provide individualized attention – so sign up today!
Sign Up Here under "workshops"
https://clients.mindbodyonline.com/classic/home?studioid=5473
Courtney Received her Master's in Counseling Psychology from Santa Clara University with an emphasis in Mindfulness Studies and Health Psychology.